Sea and Beaches
Here are some information about the beaches that people like more in Fazana and the surroundings. Isolated beaches with clear blue sea, child friendly, with services present and easy to reach. We remind you that there are also beaches for our pet friends where our dog as well can refresh himself freely in the sea and relax o the beach.
Fazana Beach

Only 300 m far from our apartments there is Fazana's town beach. It is a pebbly beach with low water and that's why it is child friendly. There are also changing "rooms" and beach showers. Some beach bars are there, a beach volley field to rent and an area for playing bowls. Under the trees there is also a playground where your children can play. If you wish to lie down further from the beach you can put your beach towel on the grass or under the trees.
Valbandon Beach
At only 10 minutes by walk along the seashore direction Pula you have free access to the camping beach where you can rent parasols and sunbeds. Water games, rent a boat, windsurf, diving lessons are offered as well. You can walk along the beach to the little harbour in Valbandon and pass near other accommodation facilities where you can find playgrounds for children and basketball courts till you arrive to Puntizela.
Dog Beach Valbandon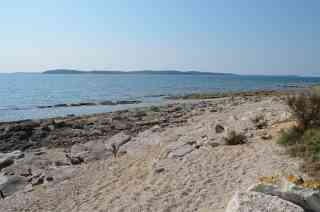 20 min by walk or 5 minutes by bike far from our apartments there is a pet friendly beach in Valbandon, before the little harbour. There are no beach services but here your dogs can relax and cool off in the sea. It is a rocky beach and the water is not immediately deep.
Stinjan
If you wish to get away from the beach bars and relax on a rock then you can chose the beautiful bays in Stinjan. Here pebbles leave space to rocks and the water is immediately deep and the sea is clear blue. To get to these beaches a 5 minutes drive is needed or a 20 minutes ride by bicycle
Dragonera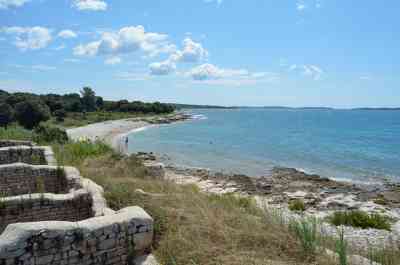 Around 15 minutes drive from Fazana, in the picturesque town of Peroj there is a place called Dragonera. Here you will enjoy the Mediterranean wood and relax in a wild area that nevertheless has a historical and cultural importance. In Dragonera Roman remains of an ancient villa rustica are present. You can stay here for the whole day or get the occasion to visit Dragonera with one of our Bike tours discovering Istria. Here a refreshing bath in the sea is a necessary step in the summer. Here we have pebbly and rocky beaches where you will forget about bars and cars and where you will find your personal quite spot away from the crowd. This is a perfect place for snorkelling and there is no access denials for dogs.
Cape Kamenjak - Premantura
When you come in Istria at least one day you should spend at Kamenjak. This is the cape of Istria, a nature park and a jewel of this land. Beautiful sea, beaches, bays everywhere and the old Beach Bar "Safari" will make your visit to Kamenjak perfect. Kamenjak is a good place for snorkelling, for walking to discover new bays or following the dinosaurs' traces. Here, the adventure lovers can dive in from some of the highest rocks in Istria.
Grotta dei colombi - Galebove stijene
Another beach that deserves to be visited is located in Pula, more precisely at Musil. Stunning rocks, crystal blue sea and the famous Grotta dei colombi where you can swim into it to find an unexpected surprise at the end of the cave. It is suggested to take an underwater torch. Even if you are not an adventure lover, this beach just few kilometers far from Pula will let you enjoy relaxation and amusement. The rock above the Cave (Grotta dei colombi) has been for generations of the local people from Pula the theater of brave divers diving into the sea from the high rock. It is very interesting to do snorkelling even in these seabeds. Diving schools often choose these seabeds for their diving lessons.
Many other beaches are present in our area. Do not hesitate to ask information about how to reach them and which one could the most suitable for you.